Golden Week Residential • Japan May 2nd ~ 6th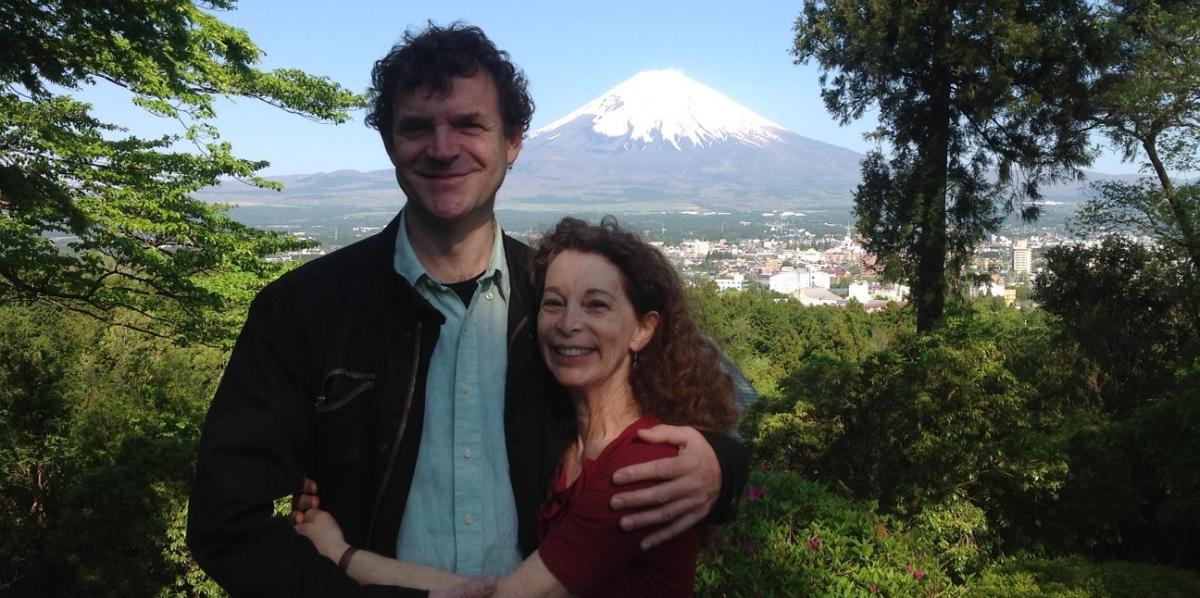 Jeremy Chance with Eileen Troberman at 2012 Golden Week Residential
Makeover Workshop in Japan
with Jeremy Chance
Is it Time to Re-invent Your Self?
Do it in Magical Japan at BodyChance
Re-engineer your Teaching & Marketing Mandala
What would have happened if Picasso had never finished his "blue" period?
We wouldn't have had the Rose, African, and Pointillism periods that followed!
And before that, Cubism, Surrealism, Expressionism, Post-Impressionism, Neoclassicism, Synthetic Cubanism and so on and so on. Get the idea?
Picasso's genius was in part, his ability to keep reinventing his technique, changing his methods, trying out new ways of doing the same old thing… painting pictures.
How many "periods" can you say you have had as a teacher of Alexander's discovery?
How many "periods" can you say you have had in your life to date?
Every great artist reinvents themselves during their life, many times. You need be no different. Today, most successful performers - from Justin Beiber to Michael Jordan - are in the business of constantly re-engineering their work.
Why not teachers of Alexander's discovery too? Why not you?
Redefining who you are, and what you do.
The best actors, singers and artists are all doing this. All their lives. It takes courage, the ability to risk losing something, and the need to be creatively challenged, to stay on a learning edge.
It's easy to get stuck in the same way of doing things, the same way of trying to attract students: the same, the same, the same.
If you want to change, you need to change. You need to…
Do. Something. Different.
Today I am inviting you to join me in Golden Week – out of your country, your culture and, most importantly, out of your living habit – to redefine a new "period" in your work life.
Come to Japan to meet with me, the BodyChance team, and other like-minded teachers, to reflect, absorb, re-engineer and redecide, what kind of life, and what kind of teaching practice, you want to work towards?
Your "Markeaching Makeover" Workshop
I discovered that it is false to separate teaching from marketing.
When you want a student to change in a lesson, you need to market your idea.
When you explain Alexander's discovery at a party, you are teaching your companion.
Separating teaching and marketing, is like separating body and mind. Sure, they have different qualities, yet they are always existing in unison. One is never present without the other.
Teaching and marketing are two sides of one thing: effective communication.
In Golden Week, you will come to explore effective communication of Alexander's discovery. First to your Self, then to others.
All teaching is a reflection of the way you personally learn.
This is the meaning of markeaching. In this world, what you do in your working space, is reflected in the outside world. Each is an echo to the other.
With a small group of 6 visiting English speakers – a mix of different kinds – I will be exploring habits; not only everyday activities, but also in the way we structure our practice and lives.
How you structure sessions, groups, your website, your communication, every aspect of your work life.
How can you create a new "Renaissance" period in your life?
Nothing is Off Limits in my Classes
And You Are Always in Control
This will be an Alexander-inspired workshop unlike any other you have attended because I don't live inside the box called "Alexander Technique". I live in a world liberated from the need to be true to "a profession", to follow protocol – instead, I love a world full of adventures, experiments and mistakes.
Alexander's discovery is our inspiration, and your "Technique" is limited only by your imagination. We grow together, learn together, transform together.
I learn by listening, by watching others, by asking questions and following my intuition. I listen to my inner voice, and I am told how to teach. This is what keeps me on my learning edge.
Become interested in how you can help people in the way they want to be helped.
The structure of your day will be a morning and afternoon workshop with me, together with opportunities to study and exchange work – if you wish - with other teachers and trainees. BodyChance is the largest Alexander teacher training school in the world, by a factor of 3 – there will be many trainees and teachers for you to meet and enjoy.
Make New Japanese Friends
And of course, it means you can befriend native Japanese – hard to do as an ordinary tourist. This is the real thing – getting into the heart of Japan, talking with Japanese people about the work.
If visiting Japan is on your bucket list of things to do before you die, then this is the way to do it.
And believe me: everything in Japan is usually opposing your idea of it – literally: you read magazines starting from the back; writing is up and down; red means start on the rice cooker; "Set C" on the restaurant menu is the most expensive; you pay your bus fare at the end of the trip, and your verbs last put, please.
This is what I call magical Japan, where everything is the opposite of what you expected.
This week will be about more than your renaissance. At BodyChance we know how to have fun. The musicians create musical compositions to perform on the final night – our "No Talent Show." Other trainees write plays, perform original dances, tell stories about old Japan, and make fun of the teachers.
If Japan has been on your list of places to go – use BodyChance's residential to accomplish two aims. Finding out about these enigmatic people, and using your time away from home to redesign and energize your "markeaching" of Alexander's discovery, or whatever else you do.
This is a chance for a discovery holiday: to explore inventing a "new period" in your life; engineering a renaissance in your markeaching practice, while living in a culture totally different from your own. We have now only 4 places available. Pay a deposit immediately, and the place is yours…
BodyChance Golden Week Residental
Dates
May 2nd ~ 6th, 2018
(Travel outside these dates)
Start evening, end lunchtime.
Where
YWCA, Gotemba, Japan
(1 hour from Tokyo by train)
SCHEDULE:
1. Morning
07.30 ~ 08.00 Meditation with Jeremy or Yoga with Michiko
09.00 ~ 10.20 Markeaching I with Jeremy
10.40 ~ 12.00 Peter Nobes or Greg Holdaway workshop
2. Afternoon
Markeaching II with Jeremy
Choice of workshops with various teachers
3. Evenings
Open School – share your skills
Graduation Ceremony – bring a tissue
No Talent Show – perform your worst
Party & Dancing – drink and be merry
Accommodation/Food
Twin share room with ensuite
All meals provided except lunch on final day
¥49,000
Participants
Limit of 6 English speakers
(4 positions currently available)
Tuition
¥128,000 + tax = ¥138,240
Deposit
¥63,000
(¥25,000 non-refundable)
Full balance due by Feb 28th, 2018.
Enquiry
Email Jeremy@bodychance.jp
PM Facebook: https://www.facebook.com/chancejeremy
PAY YOUR DEPOSIT
No need to wait, click the button below and pay your ¥63,000 deposit.
No booking can be held until this deposit is paid.
PAY FINAL FEE (Tuition less Deposit)
Click the button below to pay the remaining fee of ¥75,240 (includes tax).