Golden Week Residential • Japan May 2nd ~ 6th, 2020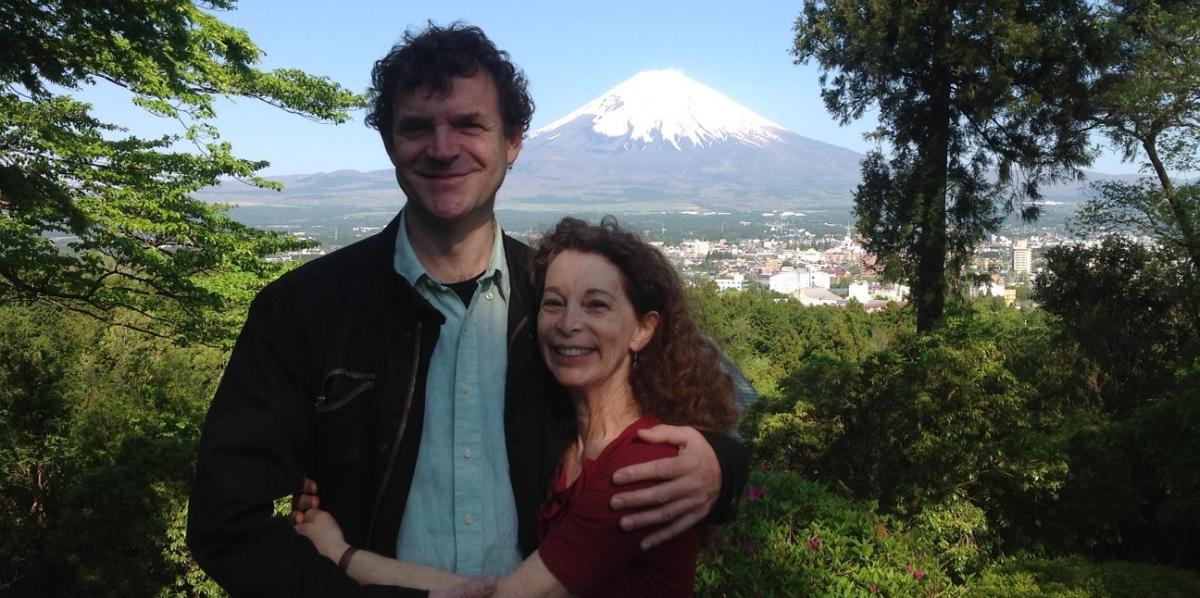 Jeremy Chance with Eileen Troberman at 2012 Golden Week Residential
Alexander's Discovery Workshop in Japan
with Jeremy Chance, Lucia Walker and Sharyn West
Is it Time to Re-Fresh Your Self?
Do it in Magical Japan with BodyChance
Re-engineer your Postual Movement Mandala!
What would have happened if Picasso had never finished his "blue" period?
We wouldn't have had the Rose, African, and Pointillism periods that followed!
And before that, Cubism, Surrealism, Expressionism, Post-Impressionism, Neoclassicism, Synthetic Cubanism and so on and so on. Get the idea?
Picasso's genius was in part, his ability to keep reinventing his technique, changing his methods, trying out new ways of doing the same old thing… painting pictures.
How many "periods" can you say you have had as a learner of Alexander's discovery?
How many "periods" can you say you have had in your life to date?
Every great artist reinvents themselves during their life, many times. You need be no different. Today, most successful performers - from Justin Beiber to Michael Jordan - are in the business of constantly re-engineering their work.
Why not do the same when it comes to how you manage your movement?
Redefining how you move, how you think about moving and how you do what you do.
The best actors, singers and artists are all doing this. All their lives. It takes courage, the ability to risk losing something, and the need to be creatively challenged, to stay on a learning edge.
It's easy to get stuck in the same way of doing things, the same way of trying to attract work: the same, the same, the same.
If you want to change, you need to change. You need to…
Do. Something. Different.
Today I am inviting you to join us in Golden Week – out of your country, your culture and, most importantly, out of your living habit – to redefine a new "period" in your work life.
Come to Japan to meet with me, Lucia Walker, Sharyn West and the BodyChance community of beginners, trainees and teachers to reflect, absorb, re-engineer and redecide the meaning of Alexander's Discovery in your life.
You Go Towards What You Think
At our BodyChance Golden Week residential course, you will discover the idea of making "Yes-Plans."
Usually, our minds are full of "No-Plans" as in:
"Don't tighten my neck."
"Don't be lazy."
"Stop eating so much."
No-Plans like these usually come along with guilt, worry and depression.
I could go as far as to say that No-Plans are brutal to your well-being.
Take the simple example of a student trying to improve their posture by trying to "stop slumping" while working at the computer. Many people think this way, don't they? And I am sure – in another area of life - you have thought similarly at times. What follows is an analysis of how a student is thinking when they do this kind of "No-Plan"...
***
When trying to stop slumping, how long can you stay up?
Again, most people answer this question by saying "Not long." You put effort into stopping slumping by sitting up straight, and about 5 minutes later, you are not doing it anymore. So you repeat it.
Imagine what that looks like over a long day: sit up, drop, sit up, drop, sit up, drop - maybe 30, 50 even 100 times a day. That is brutal to your body.
And it is also ineffective. It's a colossal waste of your energy and resources.
What you need is a Yes-Plan - a way to effectively change your Postural behaviour that is consistent, sustainable and pleasant. Yes-Plans are handy for every aspect of your life - it's about the way you think.
Here's a simple example to give you the idea…
***
 
One day my three-year-old daughter Grace was carrying a glass full of milk from the kitchen to the table. In my mind, I heard a No-Plan saying "Don't spill the milk!"
Saying that No-Plan to her puts the idea of an accident into Grace's mind. Instead, I wondered - "What is the Yes-Plan in this situation?" – So I said to her:
"Watch the milk as you walk - make sure it stays in the cup."
And she did! My daughter followed my suggested Yes-Plan - which focused on the result we both wanted.
Instead of imagining the negative, worrying thing.
Your brain is designed to go towards whatever you think.
When it comes to your posture - you need Yes-Plans. Come along to Golden Week next month and learn about Yes Plans, Turnaround Plans, Performance Plans, Replacement Plans, Back-Pocket Plans, Movement Plans – a Plan for every occasion!
It was once called "giving Directions" – this is a way to harness that idea and intertwine it with the desire of your student, so they are motivated to apply it.
Golden Week is the Japanese name for an Easter-like holiday in the first week of May 2020. There are three spots for foreign visitors to work with me, Lucia Walker, Sharyn West and the Japanese BodyChance community.
Write to me if you want to come – here's the video link to watch the goings-on…
https://www.youtube.com/channel/UCvykdYrq0oNxo7oUaGT1S5w
Make New Japanese Friends
And of course, it means you can befriend native Japanese – hard to do as an ordinary tourist. This is the real thing – getting into the heart of Japan, talking with Japanese people about the work.
If visiting Japan is on your bucket list of things to do before you die, this is a great event to include. A "native intensive" that no tour group can offer!
And believe me: everything in Japan is usually opposing your idea of it – literally: you read magazines starting from the back; writing is up and down; red means start on the rice cooker; "Set C" on the restaurant menu is the most expensive; you pay your bus fare at the end of the trip, and your verbs last put, please.
This is what I call magical Japan, where everything is the opposite of what you expected.
Past visitors have told us that this week became their renaissance.
At BodyChance we know how to have fun. The musicians create musical compositions to perform on the final night – our "No Talent Show." Other trainees write plays, perform original dances, tell stories about old Japan, and make fun of the teachers.
If Japan has been on your list of places to go – use BodyChance's residential to accomplish two aims. Finding out about these enigmatic people, and using your time away from home to reconsider your life; energize Alexander's discovery as part of it.
This is a chance for a discovery holiday: to explore inventing a "new period" in your life; engineering a renaissance while living in a culture totally different from your own. Now I have 3 twin-rooms available.
Pay a deposit immediately, and a place is yours…
BodyChance Golden Week Residental
Dates
May 2nd ~ 6th, 2020
(Travel outside these dates)
Start evening, end lunchtime.
Where
YWCA, Gotemba, Japan
(1 hour from Tokyo by train)
SCHEDULE:
1. Morning
07.30 ~ 08.00 Meditation with Jeremy (optional!)
09.00 ~ 10.20 Session with Jeremy
10.40 ~ 12.00 Lucia Walker or Sharyn West workshop
2. Afternoon
"UnDoing the Ideas That Tighten Us" with Jeremy
Choice of workshops with various teachers
3. Evenings
Open School – share your skills
Graduation Ceremony – bring a tissue
No Talent Show – perform your worst
Party & Dancing – drink and be merry
Accommodation/Food
Twin-share room with ensuite
All meals provided except lunch on the final day
Please tell us in advance of any special food requests.
TWIN SHARE Ensuite: ¥46,475 (per person)
SINGLE ROOM Ensuite: ¥50,875
Participants
Limit of 3 rooms for English-speaking visitors
Tuition
¥128,000 + 10% tax = ¥140,800
Deposit
¥25,000 + 10% tax is non-refundable
Full balance due by Feb 28th, 2020
Enquiry
Email Jeremy@bodychance.jp
PM Facebook: https://www.facebook.com/chancejeremy
PAY YOUR DEPOSIT
No need to wait, click the button below and pay your ¥25,000 + 10% tax deposit.
No booking can be held until this deposit is paid.
PAY FULL FEE
Get it done now!
(NOTE: ¥25,000 + 10% tax is non-refundable)
Full amount is non-refundable after Feb 28th, 2020.
NOTE: This payment does not include food and accommodation.
MAKE FINAL PAYMENT BY Feb 28th, 2020
Use this button if you have already paid your deposit.
You will be invoiced separately before the residential commences.
NOTE: This payment does not include food and accommodation.