A Drunk Teaches Me Mathematics
by

Jeremy Chance
The only year I did well in Maths at school was when I had an ex-alcoholic teacher, using an amazing ability to engage us schoolboys.
How did I know he was alcoholic?
He told us: regaling us barely post-pubetic boys with extraordinary stories about his lecherous drunken adventures. He was amazing - half his class consisted of these outrageous stories (with a secret sub-plot I now realise), the other half, complex maths reduced for clearly for eager, listening minds.
We all looked forward to Maths that year.
Now I run my own biz, I've come to respect numbers; I've come to see they can be an antidote for delusional thinking. Your feeling is not a reliable way to know what is going on in your biz - unless it is so small you are familiar with almost everyone in it.
That could be true for a part-time teacher with a family to manage, or an alternative occupation that fills up much of their time. It does matter if you are intent on achieving a professional life as a teacher, that teaching Alexander's Discovery is how you earn your living.
For you - numbers are a must.
Relative Numbers, Not Absolute Numbers
As a rule, we love absolute numbers - there are 7 billion people in the world; I now have 30 paying students; I give 20 lessons every week. These are simple numbers which seem to tell a convincing story, but they are NOT the most important number to know.
Ratios are more important, because when you know those, you can start projecting into the future. Mystery is one of the frustrations people experience when starting and running a biz, but ratios can go a long way to avoiding this problem.
Look at two pie charts A and B.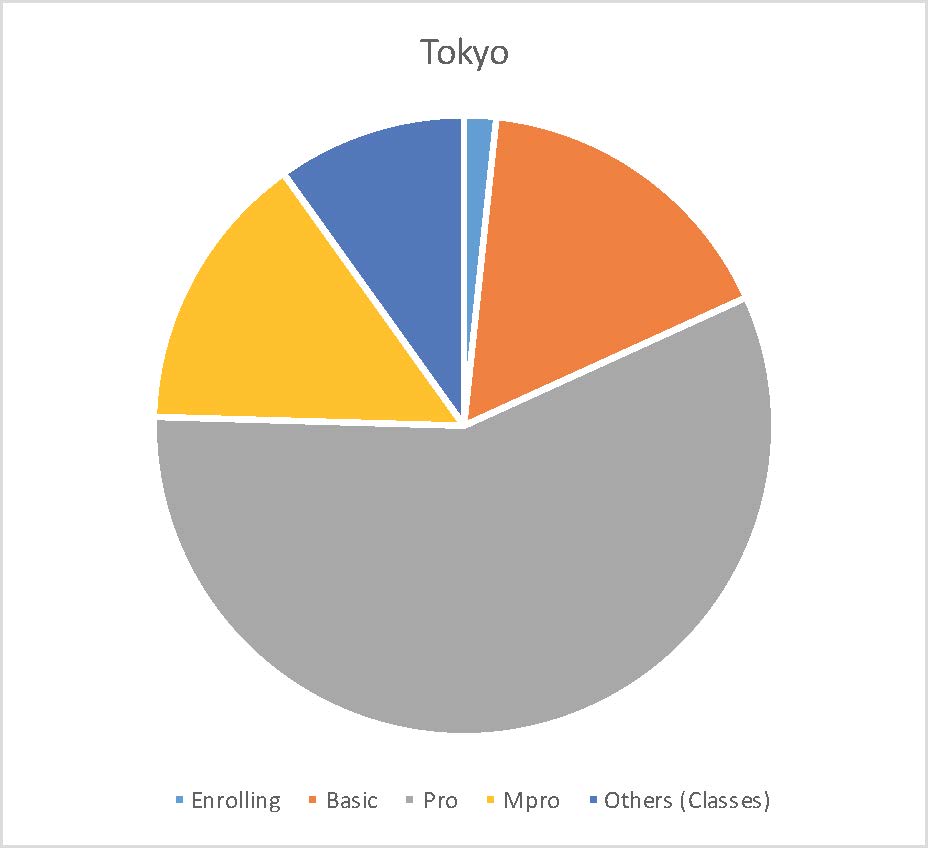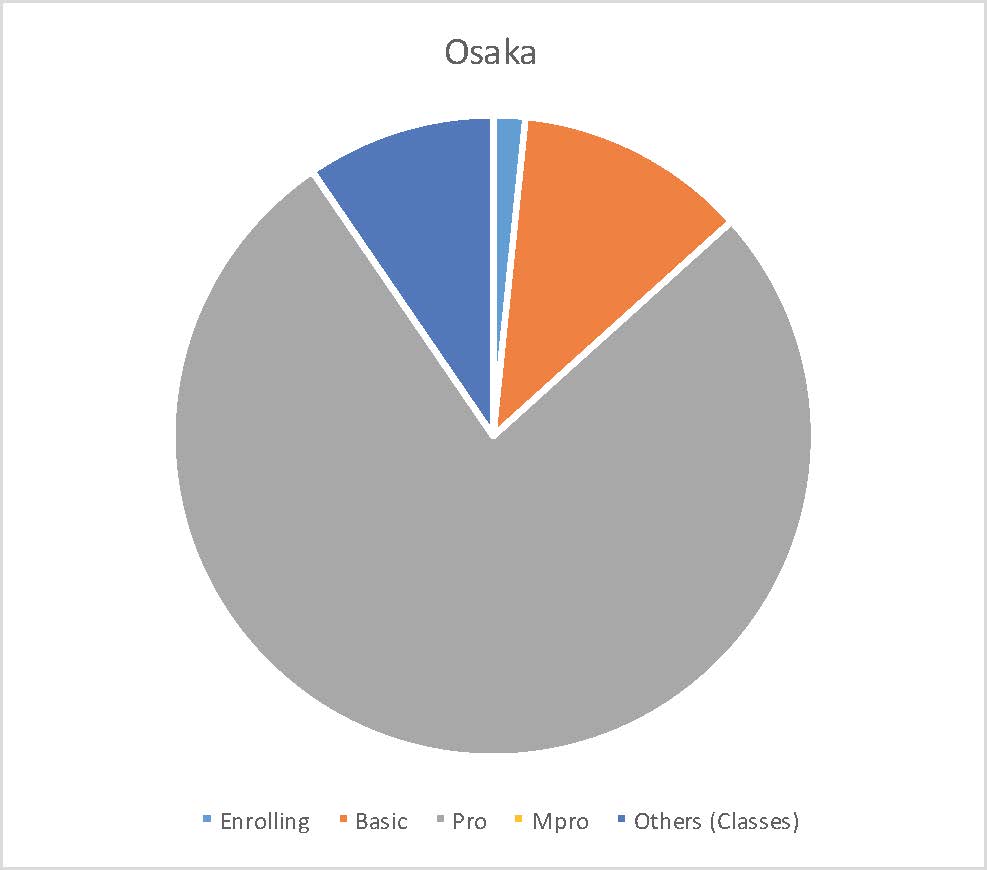 These show the distribution of income for two of our studios in Japan: Tokyo and Osaka. I had been worrying about Osaka a lot - I kept thinking, why isn't it performing like Tokyo. When I saw these charts, I was shocked.
They seem identical don't they?
Yet A represents an absolute income of 80 million yen, whereas the other represents an absolute income of 20 million yen. That's a huge difference (A is 400% bigger B), yet the difference in absolute number (80 verses 20) disappears when I compare the ratio of earnings between each biz. The blue and orange slices of the pie are almost identical. It's like a fractal, a pattern that repeats itself in another magnitude of scale.
Why is this important?
It shows me that Osaka studio is growing in exactly the same way as the Tokyo studio. Whereas before the absolute numbers for Osaka seemed very bad to me (too low!) in fact I realised that it is performing exactly as expected. The only thing needed to do is increase scale.
What is Happening In Your Practise?
When I originally wrote this, it was August, which in the Northern hemisphere means summer. People were away on holidays, taking time off, and maybe you worried because your biz is slowing down? Why is everyone cancelling, why aren't I getting new bookings?
Here's the question: is it slowing down relative to how it performed every other year?
Seasoned teachers, who have experienced many cycles, usually know the answer to this. This is an obvious application of relative numbers.
Once you understand that what is happening is totally normal, you can stop questioning your abilities, and get on with doing what needs to be done.
There are many other "numbers" which are critical to you biz, and that is a subject that I will be exploring in some of the workshops I have planned in London next January (2016).
Sign up for my mailing list below and get information about it. Hope I meet you there?
Jeremy Chance's Daily (well, was once) Dispatches
Alexander's Discovery v3.0